The Spa at Bear Run Falls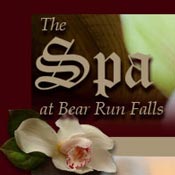 The Spa at Bear Run Falls caters to both men and women, offering thoroughly personalized services according to the specific needs of each client. We encourage our clients to leave behind the bustle of the city for a unique and unforgettable experience. Call for your appointment 865-908-1342 Receive 10% off your first visit with this add. Appointment only. Available on all services.
Visit us online:
The Spa at Bear Run Falls
Local: (865)-908-1342
Call Toll Free: 1-877-908-1342
Some other Pigeon Forge Cabin Rentals


Timbercreek Cabins

Whether its your first vacation to the Smoky Mountains of Tennessee, your second honeymoon, or the latest installment in a traditional family vacation, let Timbercreek Realty & Cabin Rentals provide the perfect ren...
Ridgecrest Log Cabin and Chalet Rentals

The best way to fully experience the Great Smoky Mountains is by staying in an authentic cabin. Leave the noise and confusion of todays world and escape to the mountains where youll be surrounded by the tranquility...
Eden Crest Vacation Rentals, Inc

Providing the finest luxury log cabins in the Great Smoky Mountains, Eden Crest Vacation Rentals invites you to spend your vacation in style. Enjoy bedside Jacuzzis, fireplaces, hot tubs, home theatre systems, full...